Jurassic World: Dominion Dominates Fandom Wikis - The Loop
Play Sound
Brian and Justin are a main pairing in the Showtime drama series Queer as Folk and are comprised of Brian Kinney and Justin Taylor. Their relationship begins as a one night stand which progresses into an open relationship and while they are consistently on and off throughout the series, there is never a doubt that they love each other completely.
Summary
[
]
One chases youth, while the youth chases him but transforms in the process. Brian said to him once "Now, go do your homework" and left him crying as he drove home.
Brian's and Justin's relationship is another example of twin flame soulmates where there is a runner and a chaser. Justin once chased, but as he grew older and found his purpose, he became more of a runner and Brian started to long for him.
Ultimately, they prove to be complimentary with Justin being the lighter half and Brian being the darker, cynical half of their union. Brian's love, after running for most of the series, for Justin became overwhelming strong beyond Justin's expectations.
Throughout the Series
[
]
Justin finds himself wandering disoriented outside gay clubs for the first time and asks a guy for directions who tells Justin he is too young to be there. In the meanwhile Brian was inside Babylon, a gay club, but he comes outside where his friends Michael, Emmett and Ted are waiting for him to get a ride home saying he got bored. Walking towards the car Brian catches Justin with his eyes and was instantly drawn to him like a magnet. He leaves his friends to introduce himself to Justin who is leaning his back on a pole smoking a cigarette.
Brian takes Justin back to his place and finds that Justin is still a virgin and only seventeen years old. After foreplay, Brian takes Justin to the hospital with him because he has nowhere he can go for the night.
While at the hospital, Justin becomes acquainted with Melanie and Lindsey. Justin is ultimately responsible for naming Gus, Brian and Lindsay's biological son. Brian and Justin go back to his place and Justin has his first time with Brian as he went slowly.
After their encounter, Justin falls in love with Brian going as far as to tell his friend Daphne "I saw the face of God," and eventually gets Brian to have sex with him again, breaking Brian's own rule of not having sex with the same person more than once. This causes Brian's best friend Michael to become jealous and act subtly hostile towards Justin while ultimately befriending him into the group.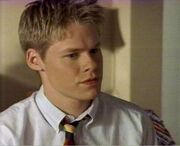 After Brian rebuffs Justin, he confides in Daphne whom tells him that she just went out and got a new boyfriend which made her ex completely jealous. She tells him "You're not exactly a troll, you know?" Justin takes her advice and goes out to the club, Babylon, accompanied by her and not only does he get his attention, but also gets the attention of people he pursuits. As they try to dance with Justin, Brian pushes his pursuers away has Justin to himself which he dances and then takes Justin home to be more intimate.
Brian continues to rebuffs him, but yet, gives signal to Justin showing he cares more beyond his shallow actions. Justin gets harassed by Chris Hobbs about the piercing saying he really is queer and Justin fights him back. Later, at home, his father accusing him of flaunting himself around school and doesn't stand up for him when he was sexually harassed and Justin states that he will not go to another private school, and he will always be his queer son, and runs off to find Brian.
His father ramps Brian, and later assaults him leading Justin to tell him he will not return home. Justin stays with Brian. he attempts to cook Brian dinner, but Brian brings a male visitor for the south to his disappointment. This particular hookup of Brian's gives Justin cooking tips on Jambalaya. After initially leaving, Brian comes home to a clean loft and a refine Jambalaya meal from Justin. Brian says it's good when tasting it. Justin looks over at Brian enjoying the food knowing he is winning him over.
After the issues with Justin's father, and kicking him out, they have conversations about their fathers revealing Brian never told his father about his sexuality. Beyond Justin's knowledge, he went to go see his father later on.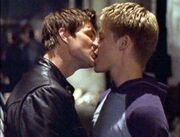 Brian kicks Justin out, and not knowing where he will end up, he runs away to New York. Daphne goes to the gang and tells them he has ran away. The gang goes to New York in search of Justin. Brian finds him in a hotel having tracked the use of his credit card. Justin and Brian become intimate in the hotel room and they bring him back to Pittsburgh. With his mother's consent, she allows Debbie to provide housing for Justin adjusting to his life as a young gay man. Debbie also hires him at the Liberty Diner to work off his dues for spending Brian's money on the credit card.
When Brian and Michael aren't speaking due to the scandal at Michael's 30th Birthday party, Justin gets involved. Brian invites him to hang out for the first time while at the diner with Daphne. Realizing it was the first time, they wonder what it means and he instantly knows when Michael walks in the door; his misses Michael. Justin gets their orders wrong on purpose in an attempt to get them to talk but it doesn't work. Later, He tracks Michael down and gives him the comic saying the Brian loves him and that was his way of saying "goodbye" and giving him to David Cameron.
When Brian has sex with a subordinate worker, named Kip, at his firm, he files a lawsuit against Brian trying to blackmail him for a promotion. Justin hears of this, and using his final days of being seventeen years old, chased Kip until he enticed him into oral sex. Justin uses true facts about his father going crazy on a man he told about his sexual affairs (referring to Brian), however, he twists the facts. Kip gets worried thinking it will get out that he was with a minor, and Justin cleverly uses this to his advantage by bribing him not to press charges against Brian.
Following Justin saving Brian from the lawsuit, he has his eighteenth birthday and begins looking into colleges. He also helps Brian babysit Gus since Melanie and Lindsay have fallen out and didn't have other arrangements during their discord.
Brian gives Justin advice while they are intimate to use condoms as an item for when Justin and Daphne attempt to start a gay-straight alliance at his school, only to have Mr. Dixon shut it down. The bullying continues with Justin as the burned his locker at school and cruelly taunt him.
Hobbs and his buddies run into Justin and the gang on Liberty Avenue one evening. Hobbs tries to taunt him, and even attempts to physically assault him which Brian prevents him out of protection from coming too close, but Justin angry about the trouble at school and that he caused him generally exposes Hobbs secret with him when he was in detention. He reveals to anyone witnessing on Liberty Avenue that he let him masturbate him and he enjoyed it. Hobbs lefts embarrassed and humiliated saying the Justin was fucked. Their was applause from local LGBTQ community with Ted and Emmett supporting him, but Brian tells him that he has gained a REAL enemy.
Justin starts to make decisions attempting to appease his parents, but Brian and Debbie's talk sense into him saying that he has to live for himself and not make decisions based on his parents. he decides that Pittsburgh institution of Fine Arts is where he want to go instead of Dartmouth University.
Justin tries a number of things to get Brian to love him back, including competing in (and winning) the "King of Babylon" contest, stealing one of Brian's tricks, dancing with guys Brian is interested in, and asking Brian to the prom, among other things.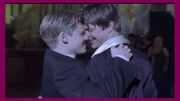 In the Season One Finale, despite initially turning Justin down, Brian shows up at Justin's prom and dances with him, kissing him in front of everybody. After Brian and Justin share a dance and kiss while on the dance floor at the prom, they walk out to Brian's jeep. They reminisce of the previous events of the prom and then share a kiss. Justin described it as "the best night of [his] life." Unbeknownst to them, Chris had followed them to the parking garage. When Brian and Justin parted ways, Chris, a fellow student, follows Justin while he walks away with a baseball bat. Brian notices Chris too late and he swings and hits Justin in the head with the bat. Justin suffers resulting in a two week-long coma, trauma, and brain damage that causes limited use of his hand. Chris's only punishment is community service. This event has impacted his life immensely and its effects are seen throughout the series.
Justin is hospitalized for nearly 6 months, but graduates St. James Academy with his class and is accepted to Dartmouth College, but opts to go to the Pittsburgh Institute of Fine Arts to pursue his dreams.
Quotes
[
]
Gallery
[
]
Notes
[
]