Emmett and Drew are a recurring pairing on the Showtime drama series Queer as Folk. When they first meet Drew is engaged to a woman and Emmett helps him find a way to be happy and himself during their relationship. The relationship ends after Drew comes out, when Emmett realizes Drew needs time to explore life as an openly gay man.
Summary
[
]
Emmett first meets Drew and overhears hun make a homophobic remark and puts him in his place. Emmett comes for his check only to be seduced by a closeted man who was triggered by Emmett's confidence as a gay man.
They begin a friendship with benefits which turns into romance as Drew became more comfortable being with men. They dated in secret, which ultimately made Emmett for awhile which led to his life spirally out of control. Drew, living "in the dark" about his true preference, led to consequences of living inauthentically. Which he sought out Emmett once more.
Their relationship prove to a karmic tie for both of them. Each had lessons to learn from each other… Drew even saying Emmett was atonement for a guy he once bullied in his school days. For Emmett, he may have glimpsed his long term high school jock crush through him whilst learning his final karmic lessons.
Throughout the Series
[
]
On a catering gig, he meets Pittsburgh Ironmen quarterback Drew Boyd. After Drew makes some homophobic remarks to his friends, Emmett confronts him. When Emmett drops by Drew's house to pick up his paycheck, Drew becomes aggressively flirtatious and he and Emmett have sex on the floor. Although Drew is engaged to a woman, he and Emmett begin an on-again/off-again relationship that continues even after Drew marries.
They would three times a week in a hotel. One day, Drew kissed and cuddled with him. Eventually, Emmett asks him where they stand and Drew refusing to give up his life says, "Nothing has to change between them." as he wanted a life and kids and doesn't want to loose his passion; football. Emmett struggles, but find it in him that he deserves better and leaves him in the hotel.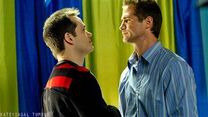 When his wife discovers the affair(s), she divorces him and Drew turns to Emmett for solace. Later, Drew finds Emmett after he has well gotten over him. Drew has encountered a fan whom he had sex and had a hidden camera and bribed him for money. Having told Sierra what was going on, she divorces him and news spread throughout the city about the allegations and even untruthful rumors. He seeks out Emmett and asks for his advice which Emmett tells him the best solution is to come out and announce who he is and accept himself.
On live TV, where Emmett is working as a Queer guy, they do an interview with Drew and he announces that he is gay and goes on to thank Emmett for encouraging him to be his own man. He kisses Emmett on life TV shocking the news cast and viewers. This also gets Emmett terminated from the News cast as they now see that he is not sexless and his sex life is actually beyond their minds to be a football star they viewed as a hero.
Emmett later takes Drew with him to Babylon like in his imagination in prior episode, but leaves him alone when he goes to get drinks for everyone. When coming back from getting drinks, Emmett gets jealous when he finds Drew kissing another man and refuses to talk to him. He later comes to his senses when he talks to Debbie Novotny that he was once a curious young gay thing at one time as well. Emmett has a talk with Drew and as much as it was hard to let him go, he realizes that Drew has to explore the gay life himself before he can steadily commit. Drew never meaning any harm doesn't disagree, but is saddened by Emmett's departure.
Quotes
[
]
• "You know the rules…." - to Emmett
Gallery
[
]
Notes
[
]