Molly Taylor is a minor character in the Showtime drama series Queer as Folk, she is the only daughter of Craig and Jennifer Taylor, making her Justin's little sister. She is only seen twice throughout the series. She is approximately eight years of age during the first season of the series, and approximately thirteen towards the final seasons.
Throughout the Series
[
]
She is only seen in the first season. One appearance was when she was mocking Justin, and the other was when Justin came to see them as their mother was hosting for her birthday.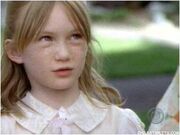 Daphne Chanders tells Justin their where balloons in the yard, and this reminds him that it is her birthday (likely her 9th birthday) which he originally forgets because of his life being so hectic. His mother is very happy he was able to make it, and tells her. She ask Justin what he got her, and teasingly, he said, "Permission to live." which she gives him a look of annoyance. Then he gives her a gift of a drawn a portrait of her. His mother embraces the gift for her and says that they will frame it and hang it on the wall. To her sadness, Justin doesn't stay long and leaves wanting to avoid their father.
Later in the seasons, he asked his mother to give her a kiss for him when he left to live with Brian.
Relationships
[
]
Jennifer is the biological mother to both Molly and Justin.
Justin is the older, biological brother of Molly sharing both of the same parents. They share a typical sibling relationship where siblings are inclined to mocking jokes and light hearted aggravation. However, because he is considerably older as a brother, he is quite protective and concerned for his kid sister.
He is Molly's Father.
She is acquainted with him throughout her junior high school and as her mother's love interest.
Notes
[
]